As a member or prospective member of North Presbyterian Church, it is important to understand the congregation's more than 140-year journey to 1327 North Salem Road.
The seedling congregation – First Presbyterian Church — planted roots in 1866 in a school house, and in 1870 received presbytery permission to become the Church of North La Crosse (later changed to North Presbyterian Church of La Crosse). In a couple decades, there were plans for a new church building at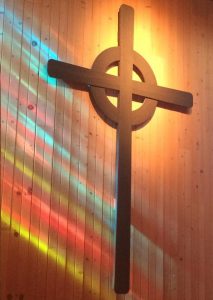 Avon and Logan Streets, where the congregation grew from 1900 to 1965. Feeling the need to expand the church facilities or relocate, the congregation worked toward a ground-breaking in April 1964 on an acreage bounded by George Street, North Salem Road and Loomis Street. The present-day structure was dedicated in early 1965.
North Presbyterian Church on North Salem Road has not forgotten its beginnings – through hard times and good times. A keystone is holding onto the good things of the past while making changes for growth, all the while growing in love and concern for others, knowing that faith in God makes all things possible.
During Rev. Allan Townsend's 22-year ministry (1978-2000), music – particularly jazz – became a focal point of North Presbyterian Church's ministry. In addition to filling our sanctuary with foot-tapping  jazz, Rev. Allan took his gift on the road and shared Jazz Liturgy throughout the area. In 1989, Rev. Townsend was honored with the Iverson-Freking Ecumenical Recognition award for his service to the community.
Since 2000, Rev. Scott Skogen has been our pastor at North Presbyterian Church. In the past few years our church has experienced significant growth. In addition to adding to our membership, we as a congregation have grown in our involvement in the community. North Presbyterian Church continues to serve our community through weddings, baptisms, funerals, pastoral care, and events.
As we grow, perhaps our motto should grow as well – North Presbyterian Church is a growing church with a big heart and invites you to join us as we strive to make a difference within the community.
Click here for a list of pastors who have served North Presbyterian Church.
Click here to for a Presbyterian Heritage overview.