Click the links below for special video messages/Virtual Sunday School from our Youth & Parish Education Coordinator, Reggie Lezpona: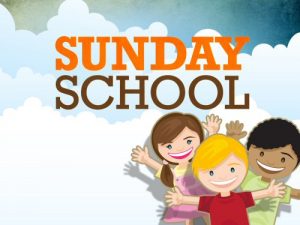 Pre-Kindergarten-2nd and 3rd-5th Grade Classes – The 2020-2021 Curriculum is entitled "No Greater Love, God the Creator and Jesus the Savior." The lessons will primarily be the 5 Books of Law in the Old Testament and the teachings of Jesus (Gospels) in the New Testament. Along with the lessons, the children will have proficiency goals, such as, "The Lord's Prayer, The Ten Commandments, The Books of the Bible, and The Apostles Creed."  The Sunday School hour also includes music, crafts, games, and activities.
Middle School (6th-8th Grade) – Reggie Lezpona guides the children through the Bible and discusses how the bible's teachings guide us through life. The children will also learn the anatomy of the Bible and a brief synopsis of each book of the Bible.
High School (9th – 12th Grade) – Pastor Scott leads the class with various topics of conversation.
Confirmation Classes – Every other year Pastor Scott holds a Confirmation Class for all 7th and 8th grade students. In this class, the students will learn the history of the Presbyterian Church, the Sacraments, the life and teachings of Jesus, and living a life of compassion and servanthood.